Welcome to Dumpster Dads!
About Us
Dumpster Dads, your Charleston trash and waste removal expert, is a locally owned and operated company created by a group of friends from Charleston, South Carolina. While renovating and working on investment properties, we noticed that long turn-around times and high costs of dumpsters were both slowing down our jobs and costing us thousands of dollars. We decided that there must be a more efficient, cost-effective and reliable way to facilitate these dumpster needs. After months of planning and finding the right team, Dumpster Dads was born.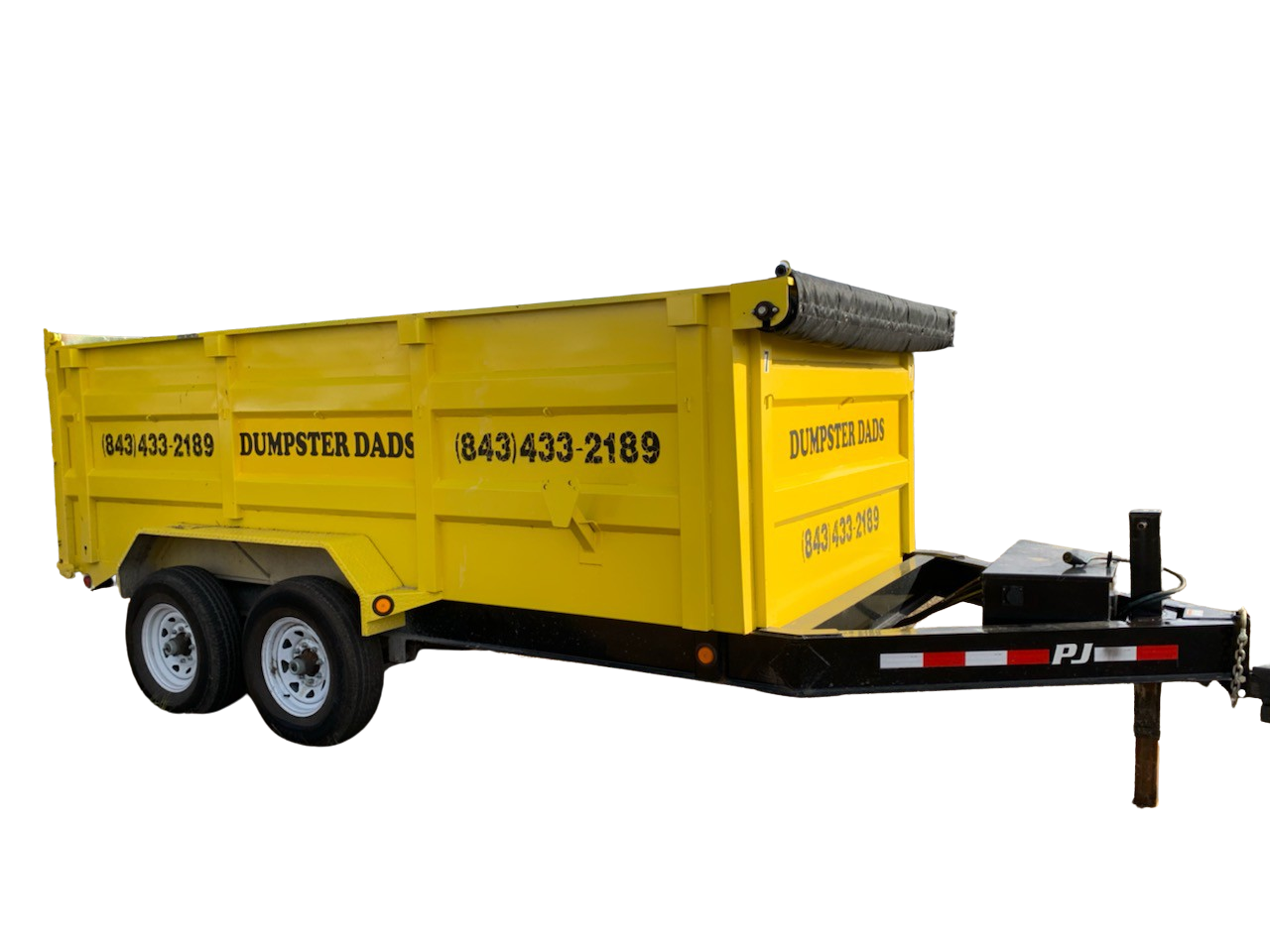 15 Yard Trailer Dumpster

Our 15-yard dump trailer is perfect for your next project. Whether you are tasked with removing old flooring, remodeling a kitchen or bathroom, cleaning out a garage or attic, or tearing down fencing, our dump trailer is what you need to solve your waste management needs!
Book Now
20 Yard Dumpster
Our 20 yard dumpster rental is great for roofing jobs, construction site cleanup, full home cleanouts, landscaping, and similar jobs that are larger in size.
Book Online Now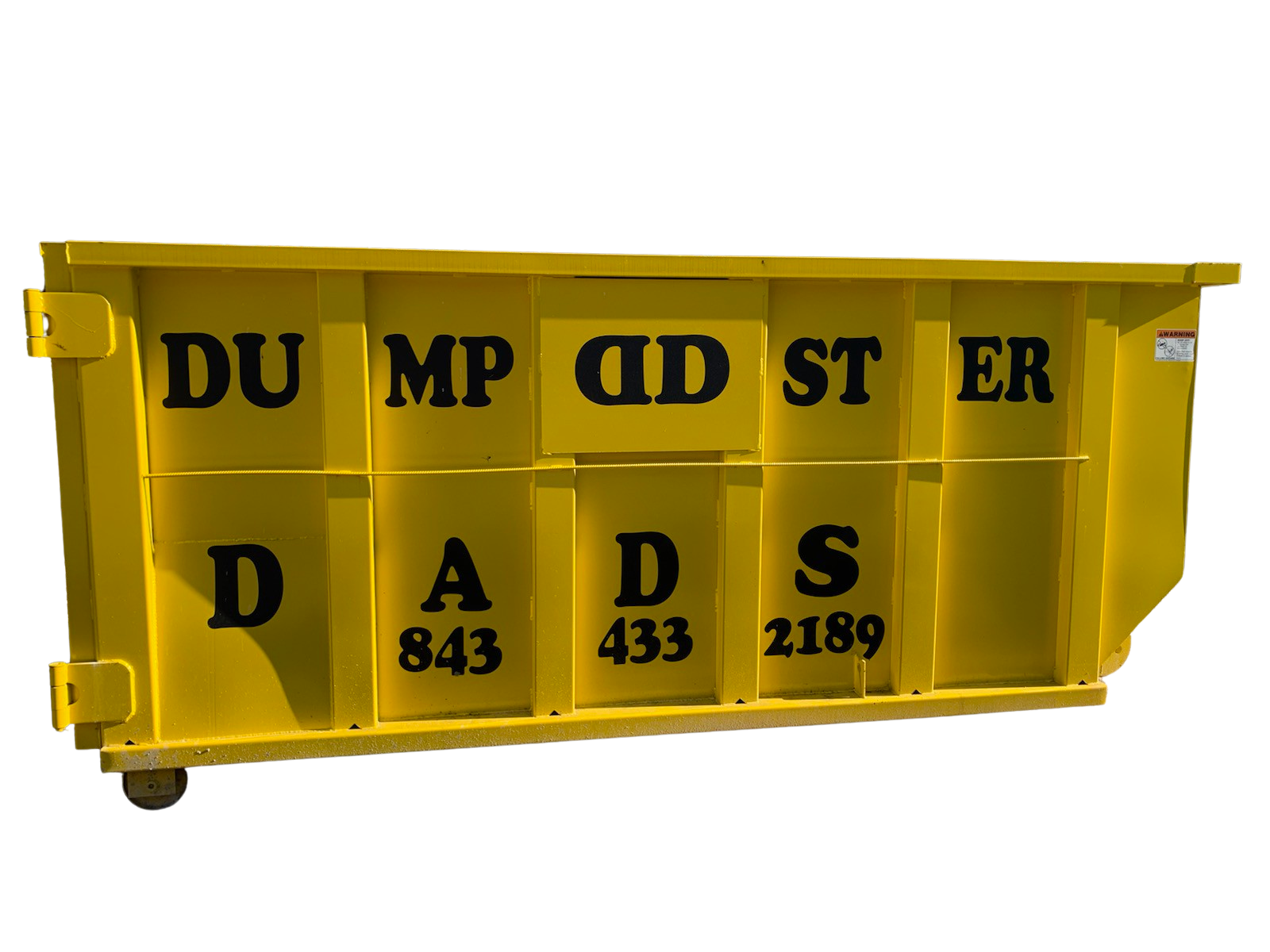 Durable Dumpster Rentals
Need a dumpster? Dumpster Dads has you covered! We have trailer dumpsters that make any project easier and more efficient. Just check out our service areas page to see if we deliver to your location. We take a straightforward approach to dumpster rentals, allowing you to get the waste management equipment when you need it. We're happy to serve residential, commercial, and construction customers alike. So no matter what type of project you have coming up or what kind of junk you need to get rid of, you can count on Dumpster Dads to take care of it for you. Our hassle-free process is just what you need to keep your project rolling and on track.

Our 15-yard trailer dumpsters are the ideal waste management solution because they are so versatile. There are different sizes to choose from and they can be placed just about anywhere on your property for maximum efficiency. On top of that, we make reserving one for your next project so simple that it's a no-brainer. We have a secure online reservation system for our customers that allows you to book the bin you need when you need it. No more wasting time waiting around for an unreliable dumpster rental company to get back to you. If you have any questions or need any help or guidance, our professional team is always here for you when you need us. Give us a call or send us a message today to see how our simplified dumpster rental process can work for you!
Book Online
Why Choose Dumpster Dads for Your Trailer Dumpster Rentals?
When it comes to renting a dumpster, it's about more than just having a durable bin to toss your junk. You want to work with a company that you can rely on to deliver on time and with care and respect for your property - that's exactly what you'll get when you choose Dumpster Dads. We're dedicated to making the process of renting a dumpster easier and more convenient than you ever thought possible. We understand that every project has a timeline, no matter how big or how small it may be, and we do our part to help keep yours running on time. We deliver our trailers all around the area, from driveways to construction sites. Our bins are ideal for just about any kind of project you can think of, from home renovations and cleanouts to roofing jobs and demolitions, we've got the waste management covered for you.
Our team is experienced and professional. We care about our customers and respect your property which is why we take extra care to ensure that we deliver your dumpster safely and that no unnecessary damage is done to your property. We also care about the environment, so when you work with us you can rest assured that your junk, waste, and debris is being disposed of properly. We work closely with local waste management authorities to make sure that we're doing our part to keep our environment clean and green for the future. With our bins, you can streamline your waste management so that your project can run as smoothly and efficiently as possible. When your bin is full and your job is complete, all you need to do is give us a quick call and we'll come to take care of it for you - no stress, no hassle!
All Rentals
Book Your Dumpster Rentals Today!

If you're planning any kind of project that will produce waste, debris, and junk, then there's no question that our trailers will be the perfect solution. You can avoid inefficient messes, costly trips to the dump, and loads of wasted time. Get started today by using our secure online booking option. Here's how it works: select your dumpster size, add to your cart, choose your delivery date, provide a few billing details, and click checkout. We'll be in touch to confirm and schedule a delivery window.
Our Service Area
Proud to Serve The Following Areas
James Island
Summerville
Sullivans Island
Isle Palms
Johns Island
Goose Creek
If your project site is beyond that radius, just let us know! Dumpster Dads will try its best to accommodate you and your wallet.
NOTE: Extra fees may vary depending on how far you are outside our service area.
Call Us Today!
Ready to book yours? Get in touch with us today! Use our online reservation system anytime, 24/7, or give us a call at (843) 433-2189. Our team is here to help you in any way we can.

If you thought renting a dumpster would be complicated and stressful, think again! When you work with Dumpster Dads, we'll make the process smooth, easy, and completely hassle-free. Get your dumpster today!